1) NAVIGATE TO CAMPAIGN MENU
Step 1: Click Campaigns in the header menu
Step 2: Click Campaigns in the left-hand sub menu
Step 3: Click 'Create Campaign' blue button and select the drop-down option 'Single Send Campaign'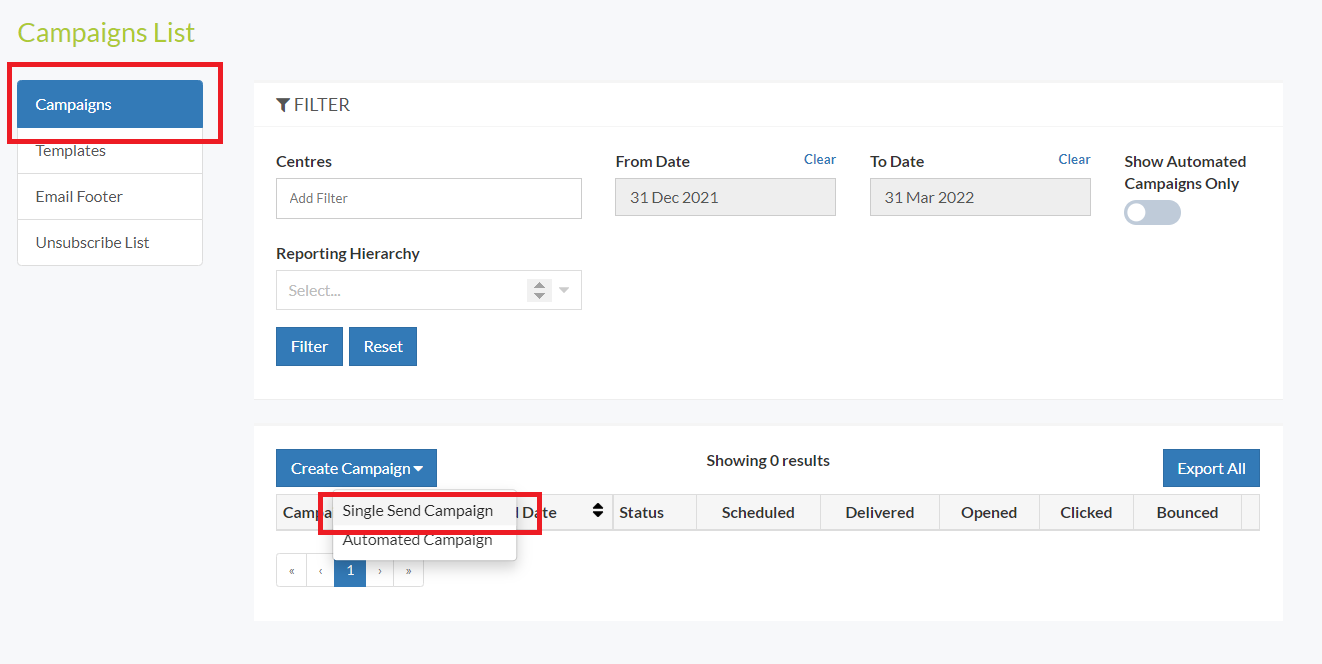 2) SELECT A DISTRIBUTION LIST
Step 1: Use the filter function to create a criteria to select a segment from your waitlist database
Step 2: Click 'Preview' button
Step 3: Once happy, click 'next' button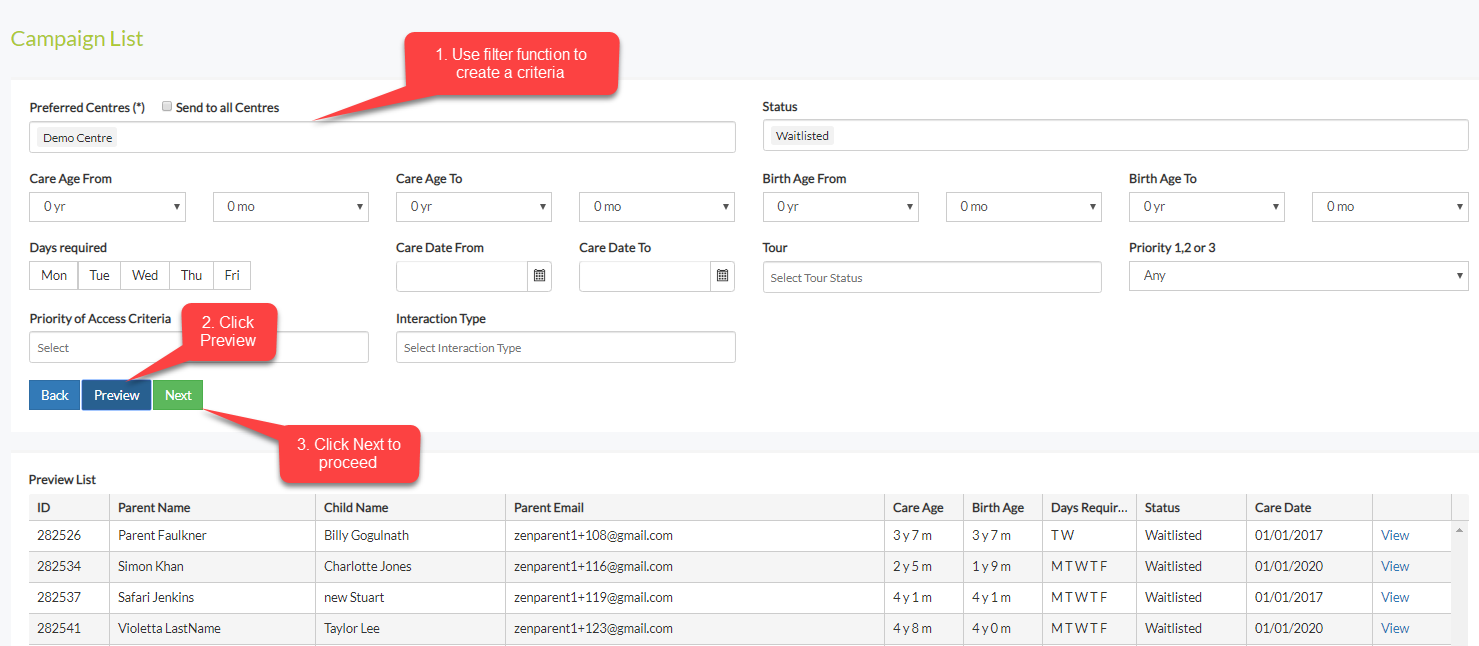 3) ENTER CAMPAIGN DETAILS AND EDIT TEMPLATE
Step 1: Complete the form fields on the left-hand side of the screen.



Checkbox 1 - 'Offer Campaign' - This will send bulk offers to your distribution list. See support article here for more information about offer campaigns.
Checkbox 2 - 'Send single email per child when registered with multiple centres' -

This checkbox will only appear for users that are trying to send an email campaign across multiple services.

Title - Your reference for the campaign
Subject - The email subject the recipient will see
From Name, From Email and Reply Email - If you have selected a single centre for your distribution list, then the centre's details will be prepopulated. However, if you are sending on behalf of a group of childcare services, your group details should be prepopulated (based on email footer settings). You may edit these fields at your discretion.

Note, the domain of the

From Email

can not be edited i.e. mywaitlist.net.au. By using this domain, your email campaign is automatically authenticated, thus improving the deliverability rate. If you would like to set-up your own custom domain, please contact your MyWaitlist Account Manager.

For multi-service campaigns: If you are choosing to send a campaign to multiple services AND you have

not checked

the tickbox '
Test Campaign - Enter an email address to test the campaign that you are about to send.
Step 2: Select your template on the right-hand side using the drop-down menu, and edit as desired
Step 3: Once happy, click 'next' button. You may now also have the "Save as Draft", if you need to edit the campaign later.
Example of Sending an Email from a Single Service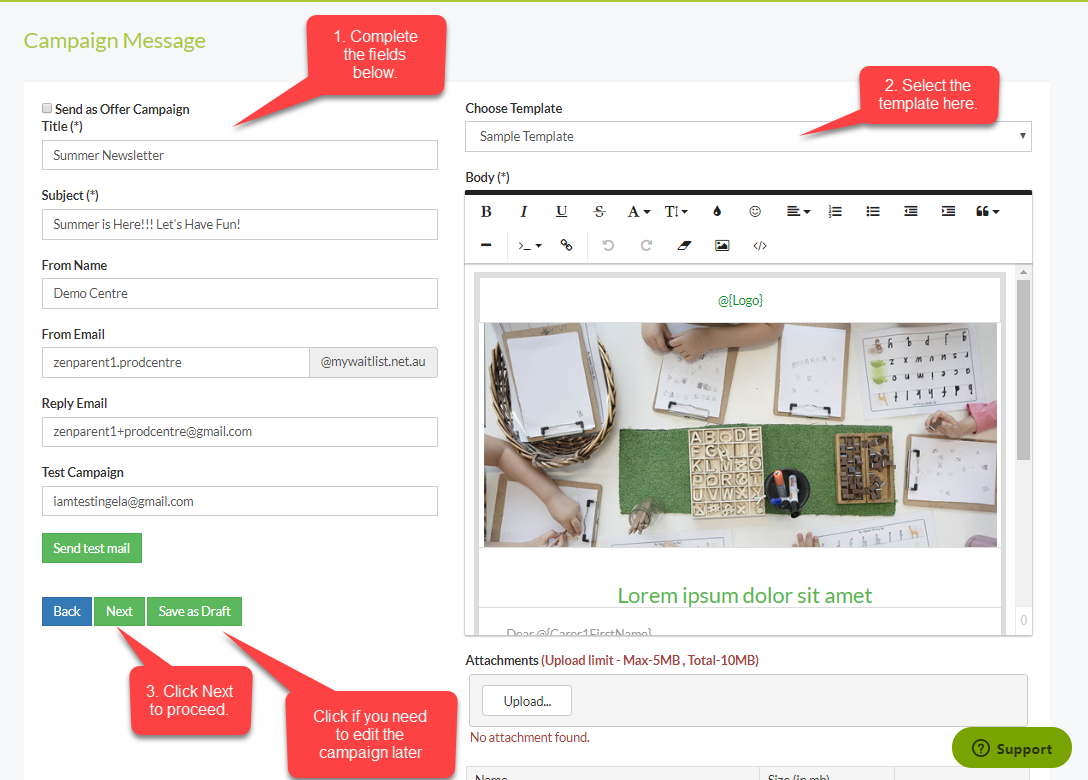 Example of Sending an Email on behalf of Multiple Services from a Group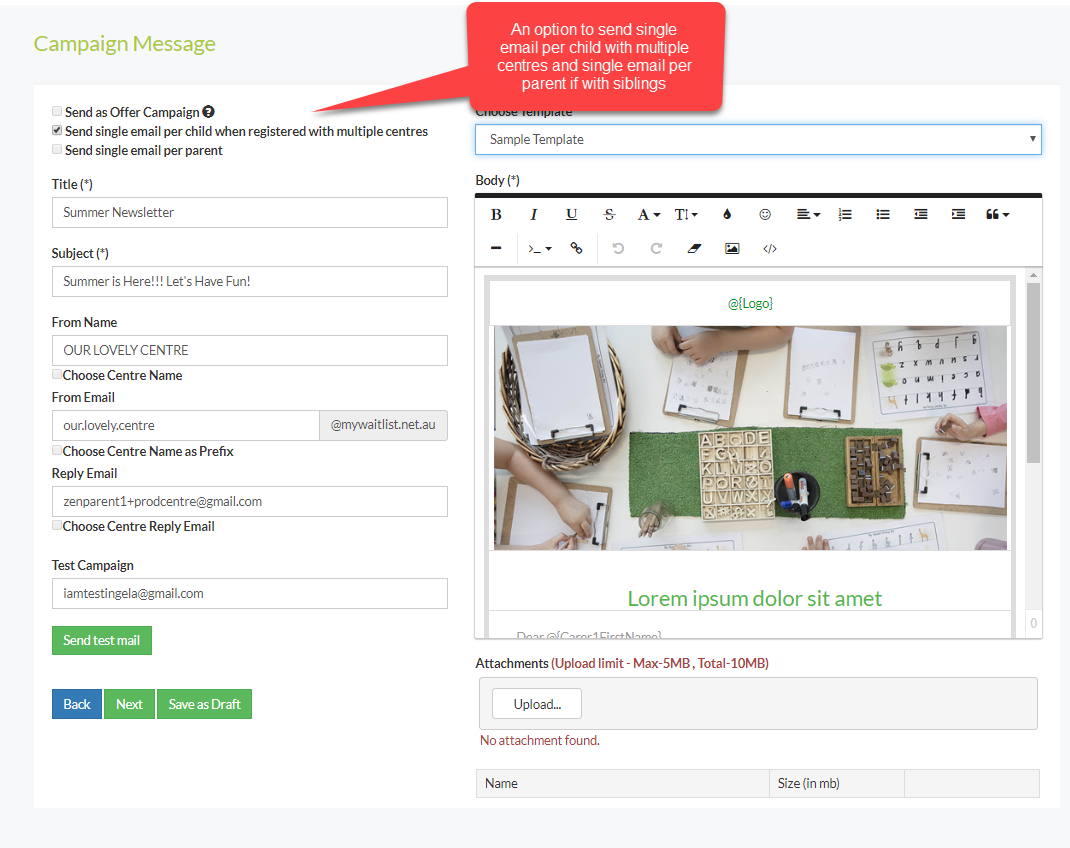 4) SEND INSTRUCTIONS
Step 1: Choose the time you would like to send the campaign

Option 1 - Schedule Now
Option 2 - Schedule Later Input future date and time

Step 2: Click submit