Setting up a Tour Booking Calendar:
Click 'Tours' on the header menu
Click 'Calendar Set-up' on the LH menu bar
Click 'Add Calendar' button


Populate the data fields (title, admin email and mobile phone number)



Note, if you assign an administrator to this calendar and populate their email and mobile phone, they will receive tour notifications via email and SMS. Notifications include confirmations, reschedules and cancellations of tours. Only the family will receive a 'Thank you for Attending' email with a Feedback Survey. If you do not wish to use our SMS feature, click 'Settings' in the header menu then select 'SMS Notifications' on the LH menu bar.




Click 'Save' to complete
Setting up Time Slots within a Calendar:
Click 'Tours' on the header menu
Click 'Calendar Set-up' on the LH menu bar
Choose the calendar you want to add tour time slots. Use the drop-down menu above the calendar.
Click the 'New Tour Time' button on the RH side of the page.



Select your day(s), time(s), and dates(s) and click 'Submit'.

After submission, the calendar will show your configured time slots. The image below shows an example of configured time slots.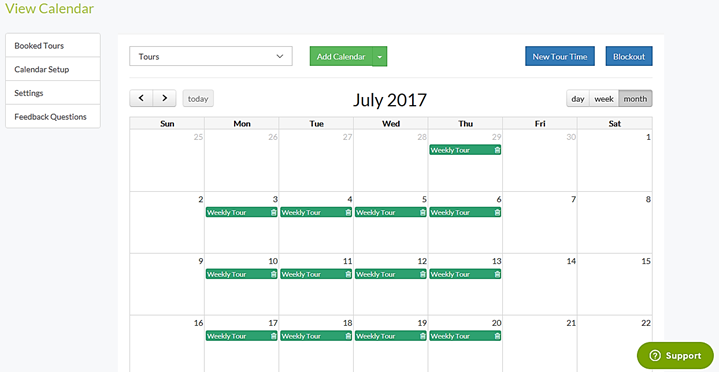 7. To delete a created timeslot, click on the rubbish bin icon located next to the slot. Kindly note, if this timeslot is a part of a series of reoccurring timeslots, the entire series will be deleted.



You will then be prompted to confirm this action by pressing the 'Delete' button.



Add your Tour Booking Form to your Website
Once you have created a Tour Booking Calendar with time slots, you may like to add this to your service website so families can book directly. To do so:
1. Click 'Tours'
2. Click 'Settings' from the left-hand side menu
3. You (or your website developer) can cut and paste the HTML code into a page on your website in order to allow parents to book themselves into set tour times and receive reminders when the tour time approaches. You can read more about Tour reminder automation here.