MyWaitlist keeps track of your active waitlists by automatically emailing parents every month prompting then to confirm if they still require care. To avoid constantly emailing parents who do not require care for some time, these emails will only begin 3 months prior to a child's required care date. If their care date passes, they will continue to receive reminder emails until they are offered a place or become inactive.
If a parent does not confirm their active status within 7 days of receiving the reminder email, their waitlist application becomes inactive. If this happens they will receive another notification email providing them with a link to reactivate their waitlist.
Changing the frequency of waitlist status reminder emails
You are able to change the frequency of waitlist status reminder emails and when they start to be sent (in relation to the care required date).
Click 'Settings' in the header menu
Click 'Automation Settings' on the LH menu.
Choose in the drop down menu how many months prior to family's care date do you wish to send status reminder emails.
Then click Apply.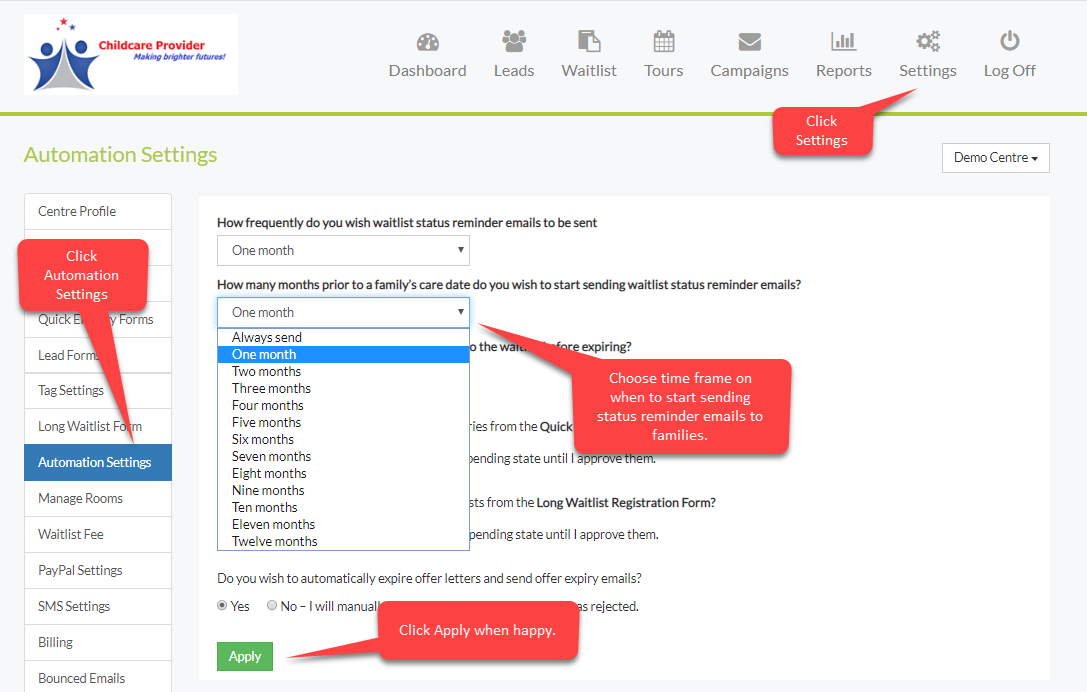 Example of Automatic Status Reminder Email
Below is the reminder email template that can be edited by centre admins or directors. This can be done in the Email Templates under Settings.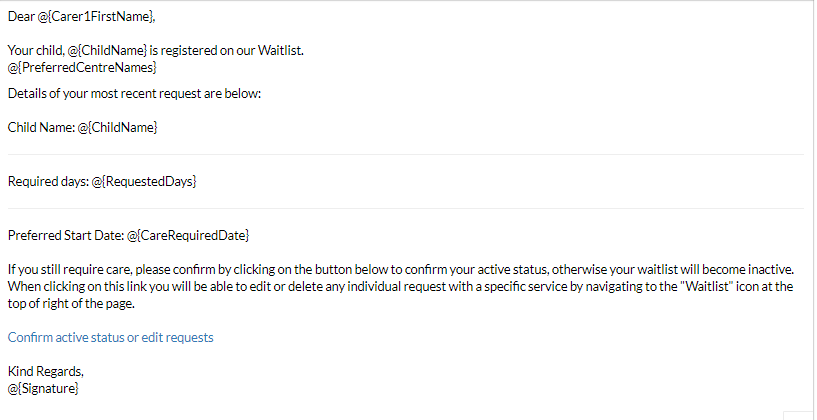 What will happen if I switch my automated reminders on after having them off for a long time?
You will probably notice that a lot of families have not been regularly updating their waitlist without these regular reminders. Your list may be outdated with many uninterested families. When you do switch the setting to ON, families will receive their first reminder email to confirm their status (any parent that hasn't updated their waitlist in the timeframe you have prescribed in the setting will receive this reminder email). Within 7 days, if they still haven't responded, they'll receive the second reminder email notifying that they are now inactive.
Keep an eye on your Notifications Report to see any families switching to inactive.