What does the report show?
The New Leads Report counts the number of incoming leads (waitlist requests) on a weekly basis. The report also allows you to see the current outcome of those incoming leads according to status (pending, offered, confirmed, started).
This report should be used in conjunction with your website analytics. Centres should monitor the thank you page for their enquiry form. This landing page should be tracked and will give you great insight into the behaviour of your interested families. For more info, click here.
What is it useful for?
Shows health of demand
Identifying trends in demand and by age group
Identifying the source of incoming leads
Setting strategic marketing goals
Evaluating past marketing initiatives
To access the report:
1. CLick on reports in the header menu
2. Click on New Leads Report in the left-hand sub menu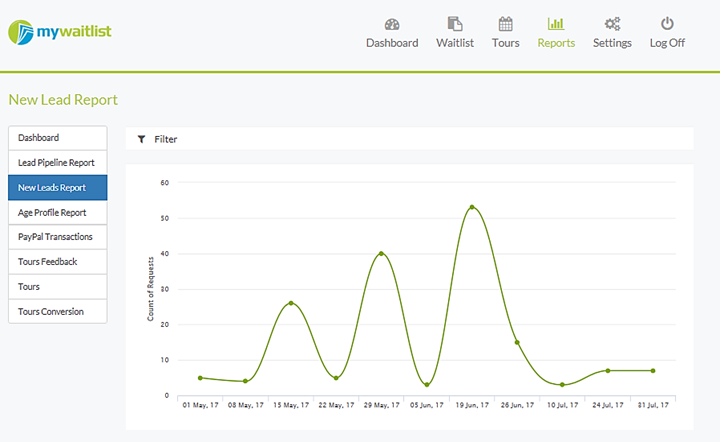 Use the filter function to narrow your criteria. You can set criteria based on:
Your Reporting Heirarchy
Care Age
From Date and To Date
Source (e.g. Google, Word of Mouth, Website etc..)
See your account manager about setting up a Reporting Hierarchy. For  multi-service accounts and top-level users, you may like to view your waitlist information according to state, areas, regions etc.