What does the report show?
The Tour Conversion Report is a report which shows how many touring families of a given week resulted in a sale (confirmed offer). It is recorded as a percentage.
The Tour Conversion Report must be analysed in light of a centre's tour policy. Centres differ in terms of tour frequency, volumes and business goals. Thus, tolerance levels for conversion rates will differ between centres. See next page for explanatory examples.
What is it useful for?
evaluating the success of tours and touring staff
benchmarking service quality
analysing public perceptions of the service and its quality
evaluating the success of any past marketing initiatives.
analysing peak periods of demand (if tours are available to all families all year-round)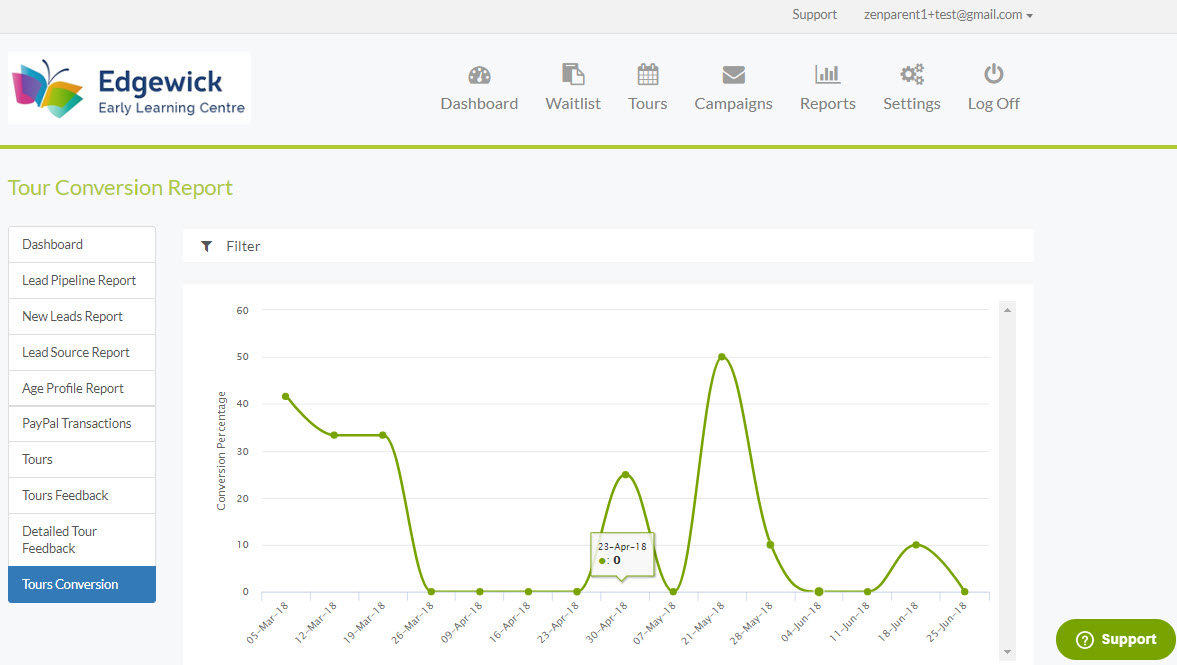 Interpreting the Tour Conversion Report
Example one: Centre A conducts tours only if there is a vacancy in the service. It typically tours one waitlisted family per vacancy that arises. This Centre will aim for high conversion rates i.e. every family that tours for a vacancy converts, and thus a 100% conversion rate should be achieved relatively quickly.


Example two: Centre B conducts tours all-year-round for interested families, regardless of whether there are vacancies in the service. This Centre has lower expectations of conversion rates compared to Centre A. This is because not all families will need care immediately and there are not always vacancies to fill. Centre B may expect that over-time, conversion rates will improve. In the short-term, rates may seem low, however as vacancies arise, families that have previously toured may convert. Therefore, in the long-term, conversion rates for given weeks may improve.
Use the filter function to narrow your criteria. See your account manager about setting up a Reporting Hierarchy. For  multi-service accounts and top-level users, you may like to view your waitlist information according to state, areas, regions etc.