Recent Notifications
The Recent Notifications Report details every interaction between your service and the family such as phone calls, enrolment offers, inactive statuses, admin notes, email campaigns and more! This report is useful for tracking important enrolment events on a group-level.
For a comprehensive list of all Notifications, see the bottom of this support article.
To view Recent Notifications reports, you may do so in two ways:
1. First, in the Dashboard page bottom left-hand side menu.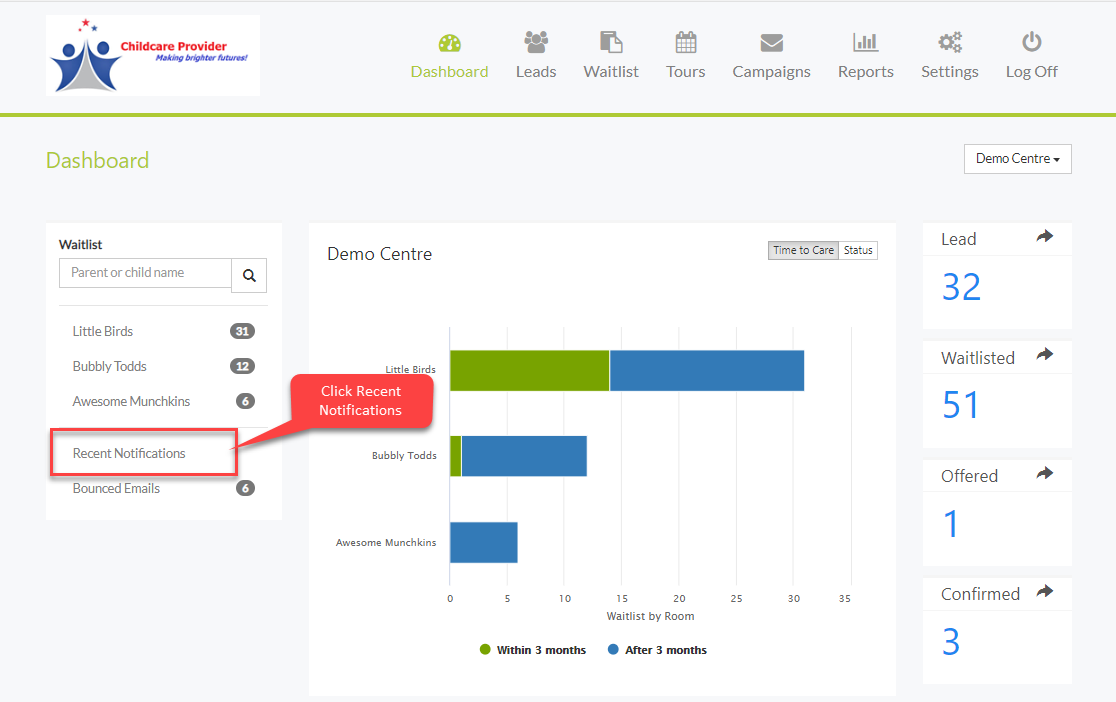 2. Second, click Reports and you can find it at the bottom left-hand side menu too.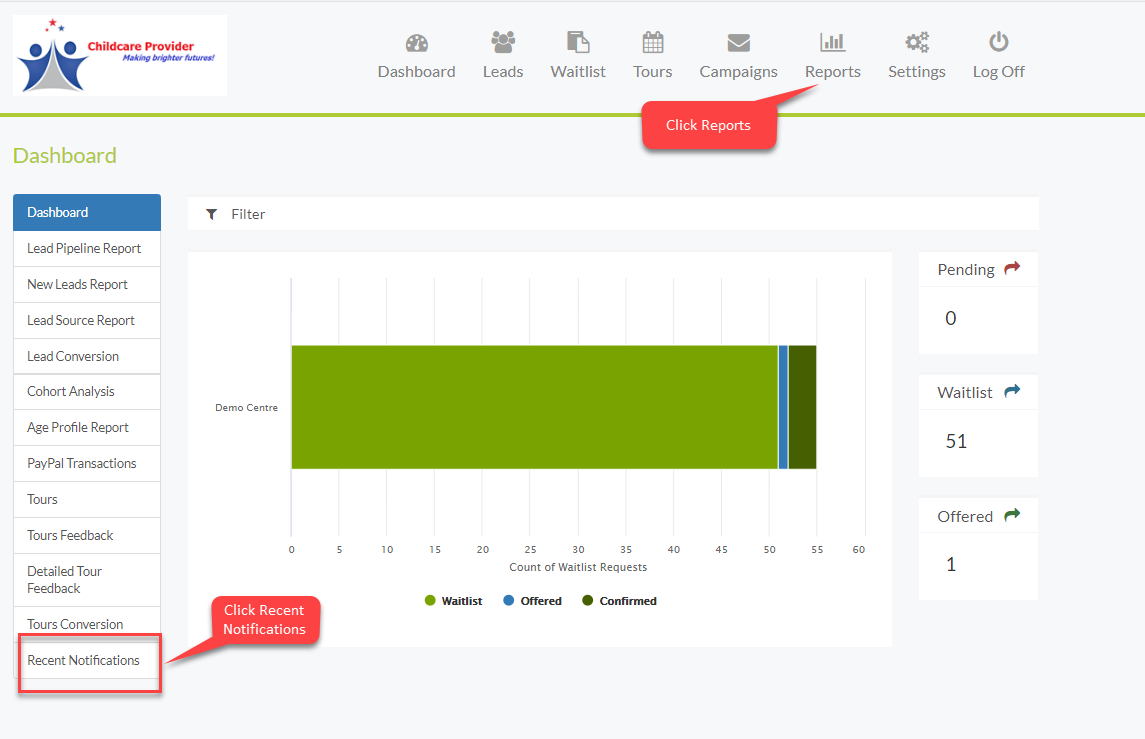 3. You are able to filter this report, ensuring you are only looking at the information you need. To do this, click on Filter, select your options (including centre if you have multiple centres, interaction type such as Left Message, Offer Expiry, No Show) and it will automatically show results.
4. Once filtered, you are able to click View to go to Carer Summary page or click on the Eye icon to see the detail of the Note, Email, Campaign of that Interaction.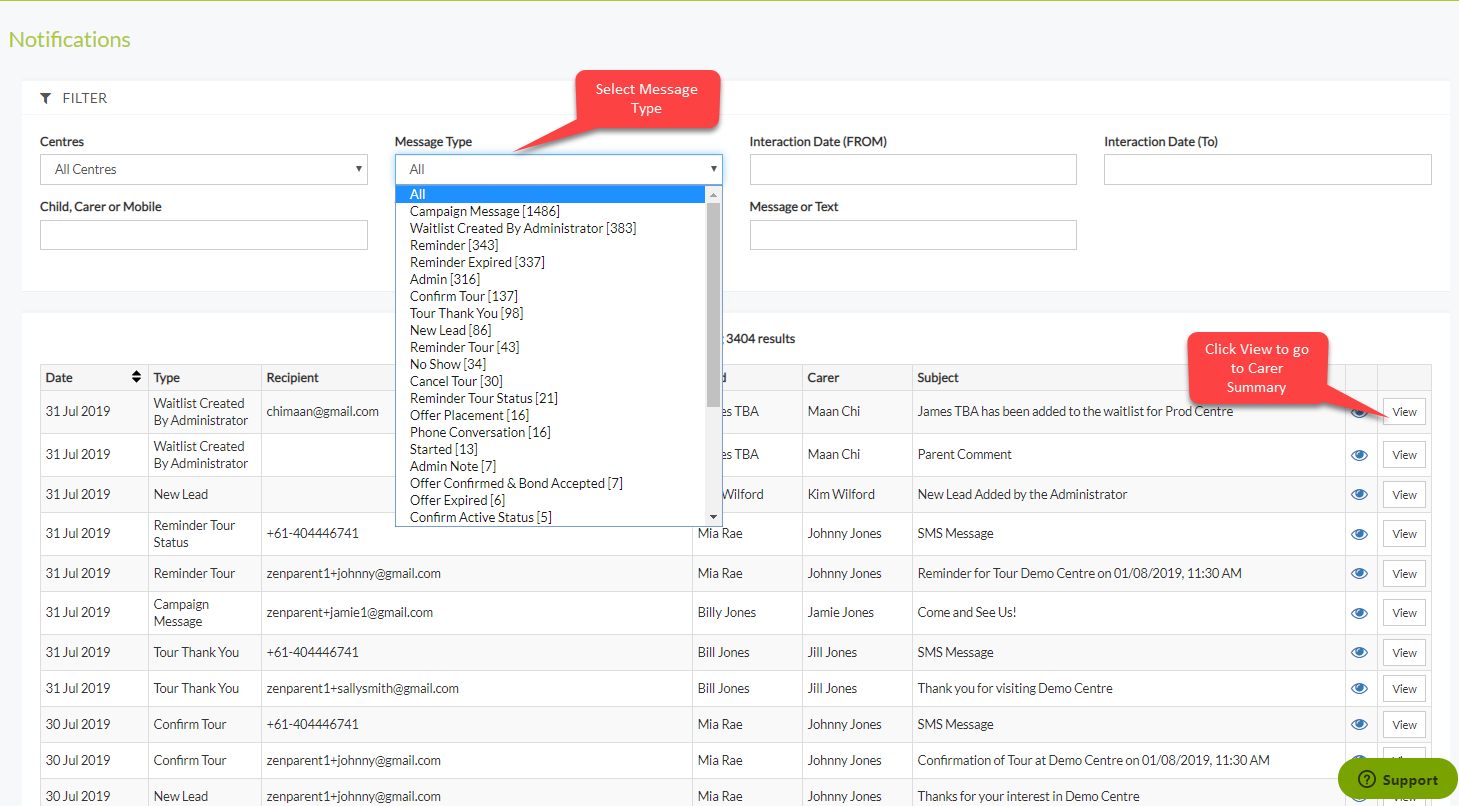 5. Click on the 'Date' column to sort in ascending or descending order
Comprehensive List of MyWaitlist Notifications:
Admin Email
Admin In-Person Contact
Admin Left Message
Admin Note
Admin Phone Conversation
Campaign Automated
Campaign Single
Lead created by Admin
Lead created by Lead Form
Offer
Offer Cancelled
Offer Confirmed
Offer Expired
Offer Updated
Started
Started to Waitlist
Tour Cancelled
Tour Completed & Thank You
Tour Confirmed
Tour No-Show
Tour Reminder
Tour Reminder
Tour Rescheduled
Waitlist created by Admin
Waitlist created by Enquiry Form
Waitlist created by Long Waitlist Form
Waitlist created by Long Waitlist Form (Admin Notification)
Waitlist Marked Inactive
Waitlist Reminder of Inactive Status
Waitlist Reminder to Confirm Status
Waitlist Reminder to Confirm Status
Waitlist Status Maintained (Parent)
Waitlist Status Reactivated (Parent)
Waitlist Updated (Admin)
Waitlist Updated (Parent)